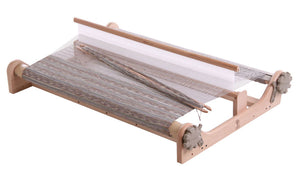 This affordable, portable and versatile rigid heddle loom is quick and easy to use and simple to assemble.  Create beautiful and unique garments and homeware.
Made from Silver Beech hardwood the loom is very strong and robust.
Includes Accessories:
-7.5dpi - 30/10cm reed
-2 stick shuttles (76cm/30")
-double heddle sideposts
-warping peg
-optional indirect warping option
-double ended threading hook
-clamps
-easy to follow colour step-by-step Learn to Weave booklet.