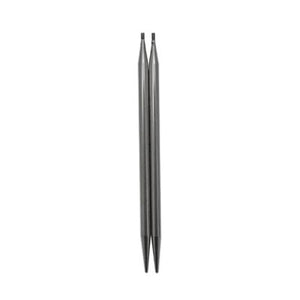 Twist tips are made of surgical-grade, stainless steel which means there is little to no chance of allergic reaction, no corrosion, no discolouring and no smell. The size is laser imprinted on each tip. Twist tips can be used with Spin nylon and Red cables. 
These special 3" Shortie tips can be combined with Shortie Cables to create small circumference circualr needles 11-14" in length.
Sizes 2.0mm through 3.25mm can be used with the Red Shortie Cables.
Sizes 3.5mm through 5.0mm can be used with the Blue Shortie X-Flex Cables.
Tips 1.5 to 2.5 mm fit a Mini size cable.
Tips 2.75 to 5.0mm fit on a Small size cable.