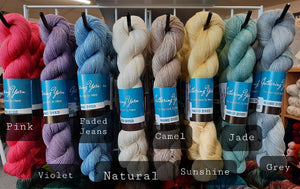 Cotton Lace is milled in Peru, hand dyed on Vancouver Island.  It is a beautiful, fine cotton and a great option for a wool-free lace yarn.  This yarn is perfect for summer shawls and tops.  You can't beat the price of this high quality cotton.
Tanguis cotton has a uniform, long staple; it is known for its whiteness, strength and softness. This one of a kind cotton is highly absorbent and can retain 24 to 27 times its own weight.
70% Tanguis Cotton, 30% Tencel
50 grams / 400 meters
Hand wash.  Hang to dry.