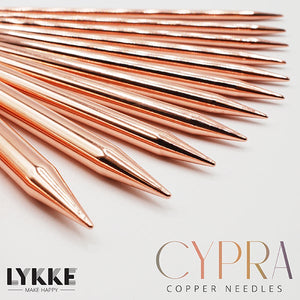 These tips are sold in pairs.  It's a chance to "test drive" these needles before you invest in a set.  Or perhaps, you just need extra pairs.  The tips are made of 100% copper.  They are smooth and light. They will naturally patina over time without staining your knits.  Copper is known to have therapeutic benefits.
The 5" tips connect to a cord with a smooth join for your choice in length and sizes.
The new Lykke clear swivel cords are perfect for enjoyable knitting.
You can restore the gleaming copper sheen with the polishing cloth. The 100% cotton outer cloth provides a gleaming lustre. The inner material is treated with LYKKE's trademark formula to remove tarnish and discolouration and restore lustre without scratching or removing the finish. The cloth measures 6x8in (15x20cm).